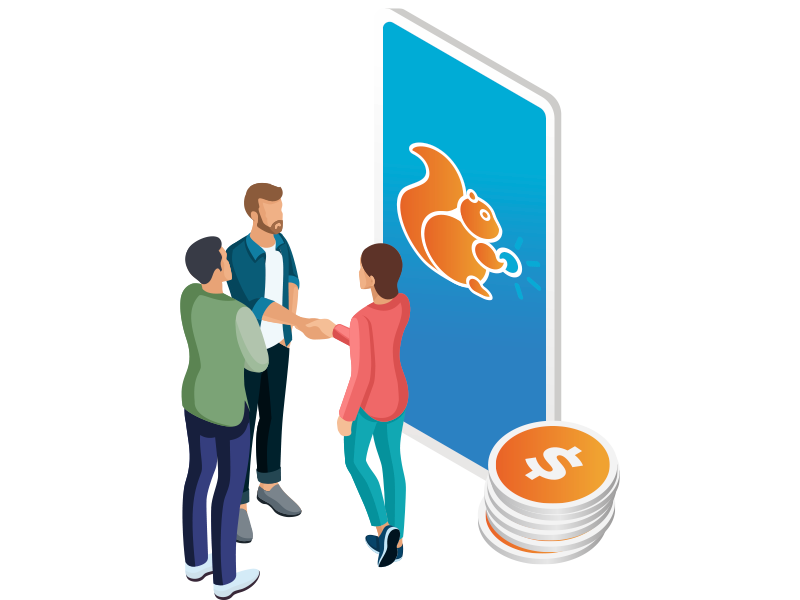 Help a Loved One Get Out of Debt Sooner
You're here to help someone experience life without debt, and we're here to make it easy! To set up an account with Changed:

1. Create a Changed account using your name and email. We create an FDIC-insured account in your name, not your loved one's.

2. Enter your loved one's loan info.

3. Link your accounts. Select your preferred funding account for Changed to make transfers from.
A Step-by-Step Guide
Set it up once and we take care of the rest!
Starting with the Basics
Like any good relationship, we need to get to know you
To create and set up your personal FDIC-insured Changed savings account, we need some personal info. Enter your legal name, date of birth, phone number, and address. Your info will never be used for anything else other than setting up your account.
Next, add your loved one's loan info
Link all loans directly and securely
Securely link all of your loved one's loans to Changed. Once connected, choose which account you want to pay down first. It's that easy. We cover all loan servicers and offer a manual way to add lenders that aren't covered with direct linking.


Then, add accounts you want to save from
Securely link your bank and spending accounts
Last, securely link your bank and spending accounts. Select your preferred funding account for Changed to transfer funds. Changed analyzes roundups from multiple accounts and will transfer from one selected account.
Change the Way You Pay Off Debt
A long, 17-year journey is finally over! Drew can finally relax a bit. He graduated University of Illinois at Urbana Champaign with a degree in Systems Engineering. Currently he works as a Director of Digital Solutions at CBRE.
"How easy it was to 'set it and forget it.' Also, co-founder Nick's early email blasts always put a smile on my face."
Drew's numbers speak for themselves:
Saving That's Truly Simple
Jay is debt free! Eight years later, he has said goodbye to his student loans. He is a graduate of North Central University, where he got a Bachelor of Arts degree in youth ministry. He is currently working as a student ministry pastor.
"I loved being able to save money towards paying off my loan without having to think about it. And timing my extra payments to minimize what I was paying in interest."
Jay's numbers speak for themselves:
$2,250
Paid toward his debt
Money Matters You Can Measure
After 10 years, Brandy is student debt-free! She attended LSU to earn her nursing degree but tragically was cut due to Hurricane Katrina. Now she works as an AD of strategic pricing for a virtual clinical trials company. Her advice to the squirrel squad is to pay more aggressively!
"I was paying off my loan rather quickly yet I didn't see any noticeable changes in my bank account."
Brandy's numbers speak for themselves:
$2,500
Paid toward her debt
See the impact Changed has made for borrowers just like your loved ones.
It was really easy. Small amounts you don't miss in your bank account would be saved with Changed that I didn't feel, but it made a big difference in paying off my loan.
Stephanie